When you're looking for an enterprise video hosting platform, you're looking for a high-performance system that can:
Provide secure content delivery and storage
Allow collaboration between or among multiple users
Meet scalability requirements as your organization grows
Integrate with existing infrastructure and applications
Provide an intuitive user interface
There are many solutions available that almost perfectly meet these criteria, and we'll explore nine of them in this article.
But before we do that, let's address a common misconception in the video hosting industry, where consumer-driven video platforms often get tagged as enterprise video platforms.
Consumer-driven vs enterprise video hosting platforms
When asked to give an example of a "consumer-driven video platform," which one comes to mind first?
If your first thought was YouTube, you'd be correct. You might even take it a step further and say Facebook & Instagram Live, and you wouldn't be wrong.
These platforms are great for those who want to quickly share content with the world (think influencers, hobbyists, and small businesses).
But they're usually not ideal for businesses that need a more reliable and secure solution with enterprise-level features.
If you're looking to monetize your videos for ad earnings, these platforms either don't allow it or cut a large portion of it.
(Related content: How Do You Monetize Video Without YouTube? A Complete Guide )
We've created a table here to compare the features of consumer-driven video platforms like YouTube, Instagram, and Facebook to enterprise video solutions:
| | | |
| --- | --- | --- |
| Feature | Enterprise Video Platforms | Consumer-Driven Video Platforms |
| Security | Robust security features such as encryption, access controls, and compliance with industry regulations | Security may not be as strong |
| Advanced functionality | Includes advanced functionality such as analytics, user management, and integration with other enterprise systems | May not include as many advanced features |
| Customization | Deeply customizable to specific needs and workflow | Limited customization options |
| Content Management | Can handle large amount of videos, provide metadata management and version control | May not have as many functionalities |
| Integration | Capable of integrating with other enterprise systems | May not do advanced-level integrations with other systems |
| User Management | Advanced user management and permissions | Limited user management options |
| Analytics | Advanced analytics and reporting | Limited analytics and reporting options |
What type of enterprise video hosting works best today?
With how the economy is taking quite a downturn at the moment (2023), you, like many other companies, are probably looking for ways to minimize costs — while maximizing efficiency and security.
If you're not sure what we mean, here are a few ways in which a declining economy affects broadcasters and businesses:
Advertiser spending : If you're monetizing via ads, there's a chance that advertiser spending will decrease. In a lagging economy, many businesses are reducing their advertising budgets. This means you'll have fewer ad slots to fill, and you may need to lower your ad rates.
Audience size : A declining economy can also lead to a reduction in the size of the audience as consumers may not have as much disposable income to spend on entertainment or other leisure activities. How does this affect you? A decreased audience size means you'll have a smaller audience in which to tap into for video monetization.
Advertiser competition : As the economy declines, more businesses may turn to advertising channels to try to increase sales, which can lead to increased competition for ad space and higher ad costs.
Viewership : The declining economy can also lead to a change in viewership habits and patterns, as people may prefer to watch content on OTT platforms, where they can access it for free or at a lower cost. This can make it more difficult to monetize via subscriptions and ad revenues; so if that's how you've been monetizing your content, you may see a decrease in revenue.
So, what type of enterprise video hosting solutions should businesses and broadcasters be using to maximize efficiency, security, and cost savings?
With all the challenges posed by the current economy, there's a greater need for businesses and broadcasters to use reliable, secure, cost-effective enterprise video solutions.
Especially if you're monetizing your video content through models like Subscription Video on Demand (SVOD), Advertising Video on Demand (AVOD), or Transactional Video on Demand (TVOD) — you need a reliable, secure platform that's optimized for streaming large amounts of video content quickly and efficiently.
Fortunately, there are several enterprise video hosting solutions that offer just that.
9 enterprise video hosting platforms to pick from
In this section, we'll be taking a look at 9 of the best enterprise video hosting solutions available on the market today.
These platforms are designed for enterprise-level customers and so they come with features such as DRM, access control, analytics, and more.
JW Player
Brightcove
Kaltura
Vimeo Enterprise
Cincopa
Wistia
Zype
DaCast
StreamShark
These platforms are the go-to options for businesses and broadcasters who want to stream large amounts of content quickly, securely, reliably, and cost-effectively.
Let's explore each of them further.
1. JWP (yep, this is us)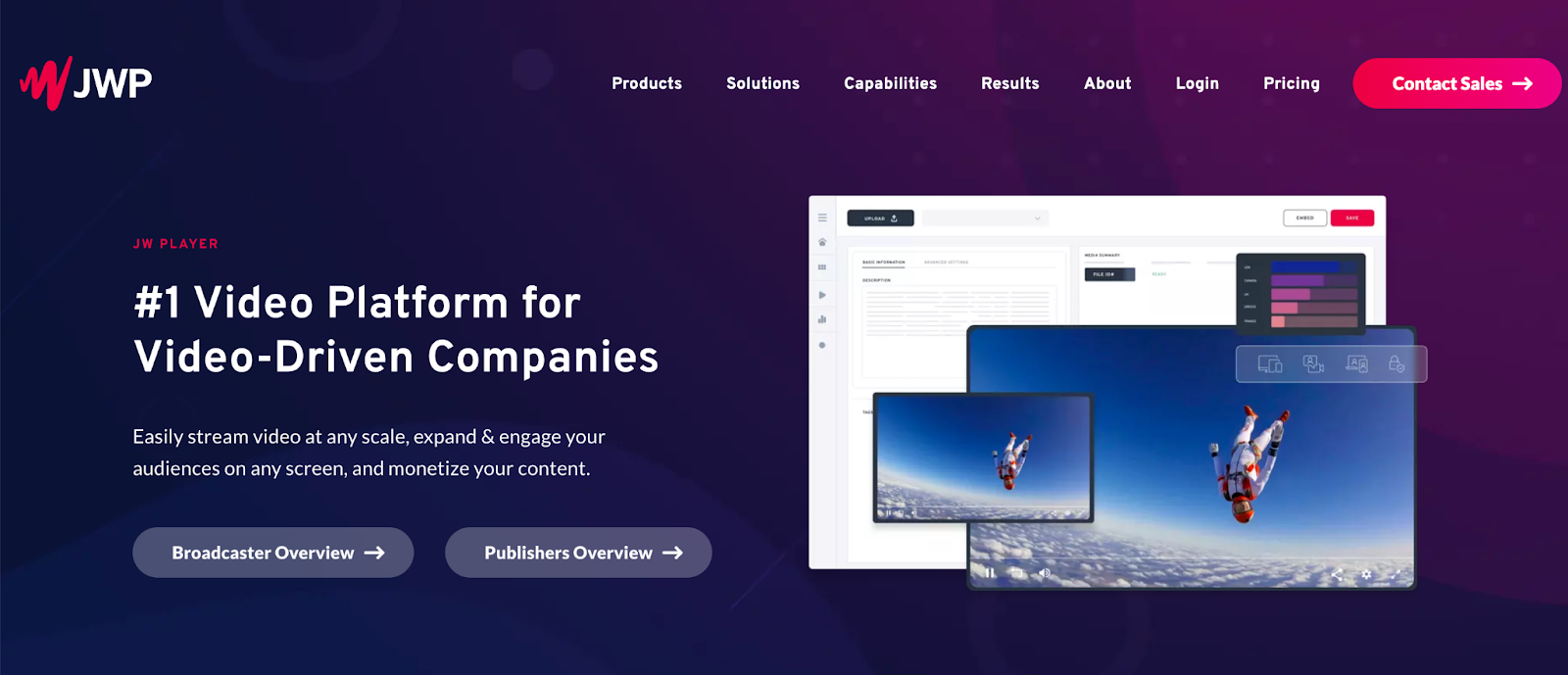 JWP is a cloud-hosted, HTML5 video player platform that enables broadcasters and businesses to monetize, deliver, and measure their video content.
Our video hosting platform is the #1 choice of many enterprise brands, like:
Eurosport
USA Today
Sky
BBC
Insider Inc.
Fox
Investopedia
CNBC, and many others .
Our offering comes with advanced features like Digital Rights Management (DRM), analytics, and access control — making it a superb choice for broadcasters looking to stream large amounts of content quickly, securely, and cost-effectively.
And it's not only broadcasters that benefit from our product; businesses that need an enterprise video solution, too, for internal video streaming and marketing use cases use JWP to power their video experiences.
You get video marketing features like video SEO, call-to-action overlays, interactive video experiences, and more.
Pros
24/7 video streaming functionality
Video upload time is less than 30 seconds
Ability to build a custom video-on-demand (VOD) library
Social media sharing of video clips
Video marketing tools like SEO, a recommendations engine, etc.
24/7 customer support
Cons
Requires a unique code sent to your email before logging in
Can be expensive for large projects
Free trial
Pricing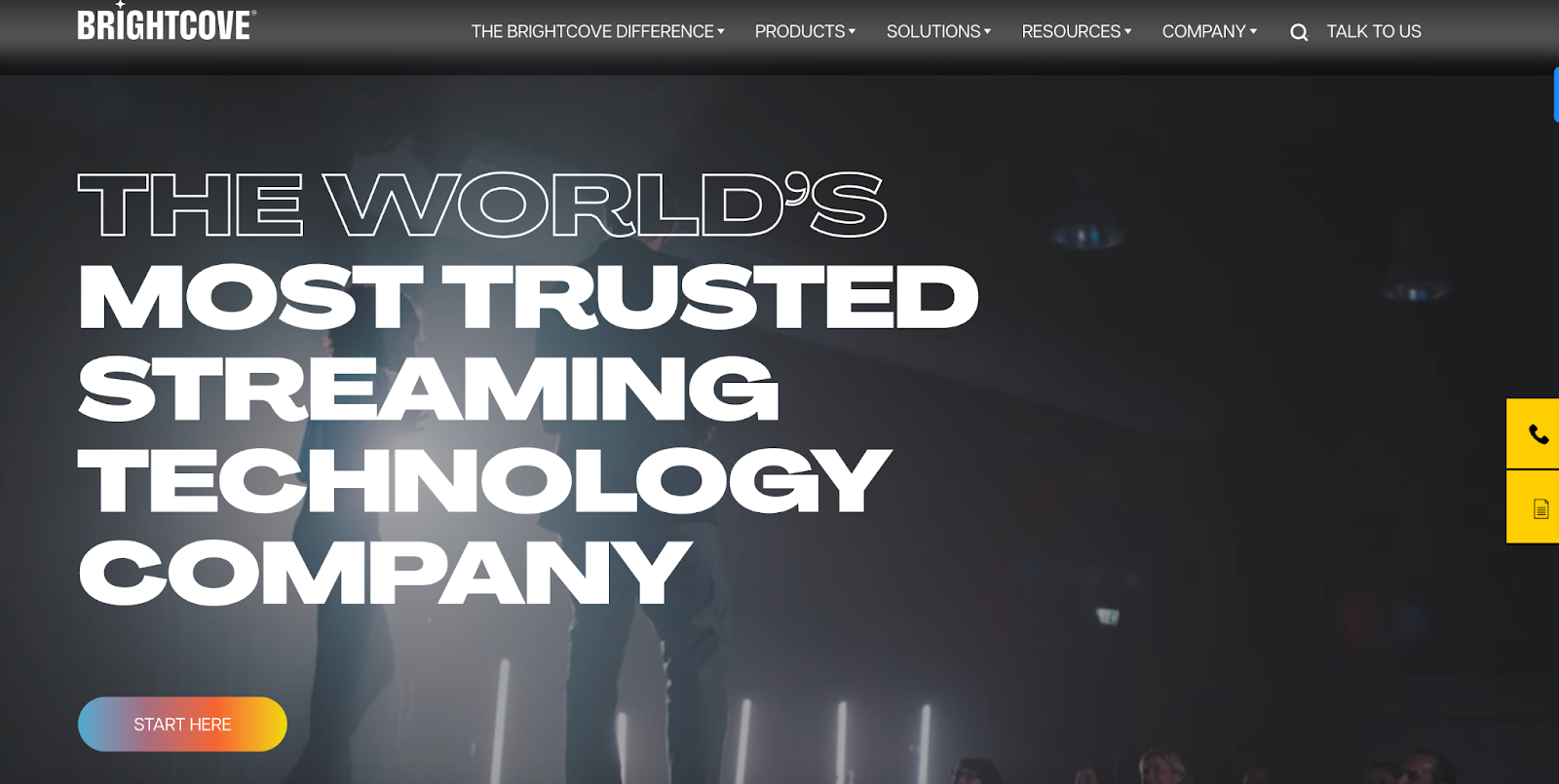 Brightcove is another popular online video platform for businesses, broadcasters, and other large-scale enterprises.
Some of its major features are a marketing studio to increase awareness and conversions for your brand, a communication studio to engage internal stakeholders, and an audience insights tool to understand audience behavior.
It also offers video streaming and hosting services, with features such as DRM protection, encoding, secure streaming (HTTPS), adaptive bitrate streaming, closed-captioning, and more.
Pros
Easy to upload videos and create playlists
A one-stop solution for enterprise video solutions
Great for e-learning video content
Regular product updates and launches
Custom video players
Cons
Multiple users complain of a flawed customer support system
The user interface (UI) may be a little outdated
Free trial
Pricing
Contact Brightcove's sales team for pricing info

If you're looking for a comprehensive yet easy-to-use enterprise video platform, Kaltura Enterprise Video Platform is a great option to consider.
Whether you're looking to build e-learning or marketing videos, create high-quality live streams, or build VOD experiences, Kaltura's video cloud platform offers features like a video content management system (CMS), webinar minisites and branding pages, DRM protection, streaming analytics, and API and SDKs for developers, and more.
Let's highlight a few major pros and cons of the Kaltura video platform.
Pros
Powerful learning management system and tools
Screen recording with voice-overs
Great customer support team
Quick video creator
In-video caption search
Cons
Often requires technical knowledge to use
Can't record videos from the Mediaspace Go mobile app (as of December 2022)
Free trial
Pricing
Varies depending on your needs; contact Kaltura's sales team for pricing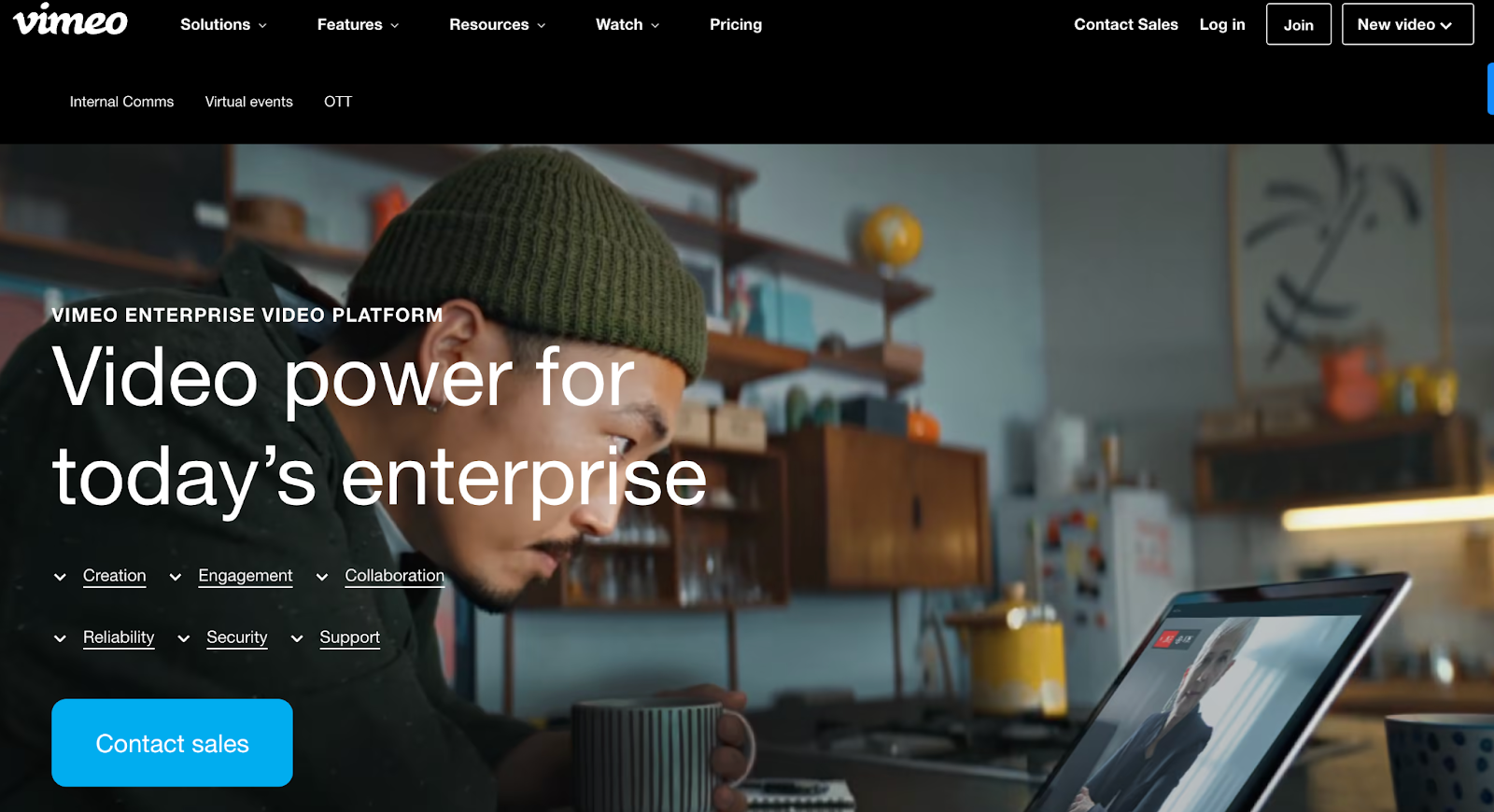 Vimeo is more popular for its consumer-focused service, but it also offers relatively basic enterprise video solutions to larger businesses and organizations — via Vimeo Enterprise.
It includes features like a powerful video content management system (CMS), enterprise-grade security and privacy, an analytics dashboard to track performance, and more.
Plus, it offers a video editor that allows you to create short clips, add text, trim videos, and more.
Pros
Video content minisite creation
Seamless integration with Zoom; move videos from Zoom to Vimeo
Intuitive and easy-to-use interface
Integrates seamlessly with RTMP applications such as OBS
Host interactive live streams with moderated chat, polls, and Q&A
Cons
Lacks some enterprise-grade features like DRM functionality and the ability to tweak video content delivery for different viewers
Multiple users complain about the lack of ease in using subtitles/captions
Free trial
Pricing
Contact Vimeo sales for pricing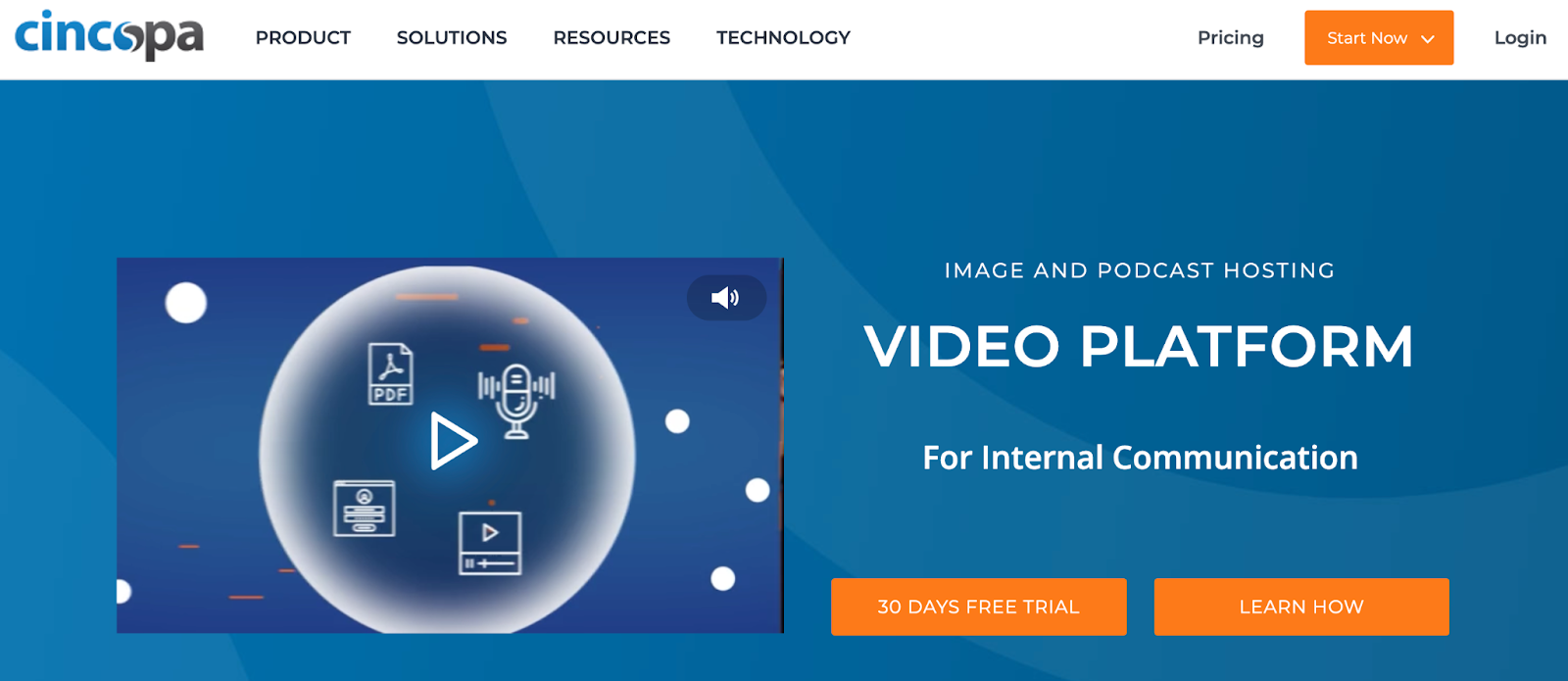 Cincopa is an all-in-one video platform that provides everything you need to create, manage, and share video content.
Its major features include a cloud-based video editor, automated transcription and captioning services, analytics dashboards, secure video hosting, and enterprise-grade security using 128-bit AES encryption.
Cincopa also offers a range of integrations with popular third-party tools like Salesforce, Zendesk, Squarespace, and more.
Pros
iOS Mobile apps for for video uploading
Excellent customer support team
Personalize photo and video galleries
No need to manually upload videos to the website after uploading to Cincopa — once you have an embed code installed
Customize video libraries per brand — which is especially helpful for an agency
Cons
Multiple users complain about some bugs around image re-ordering
You pay for image hosting even if you're not using it
Free trial
Pricing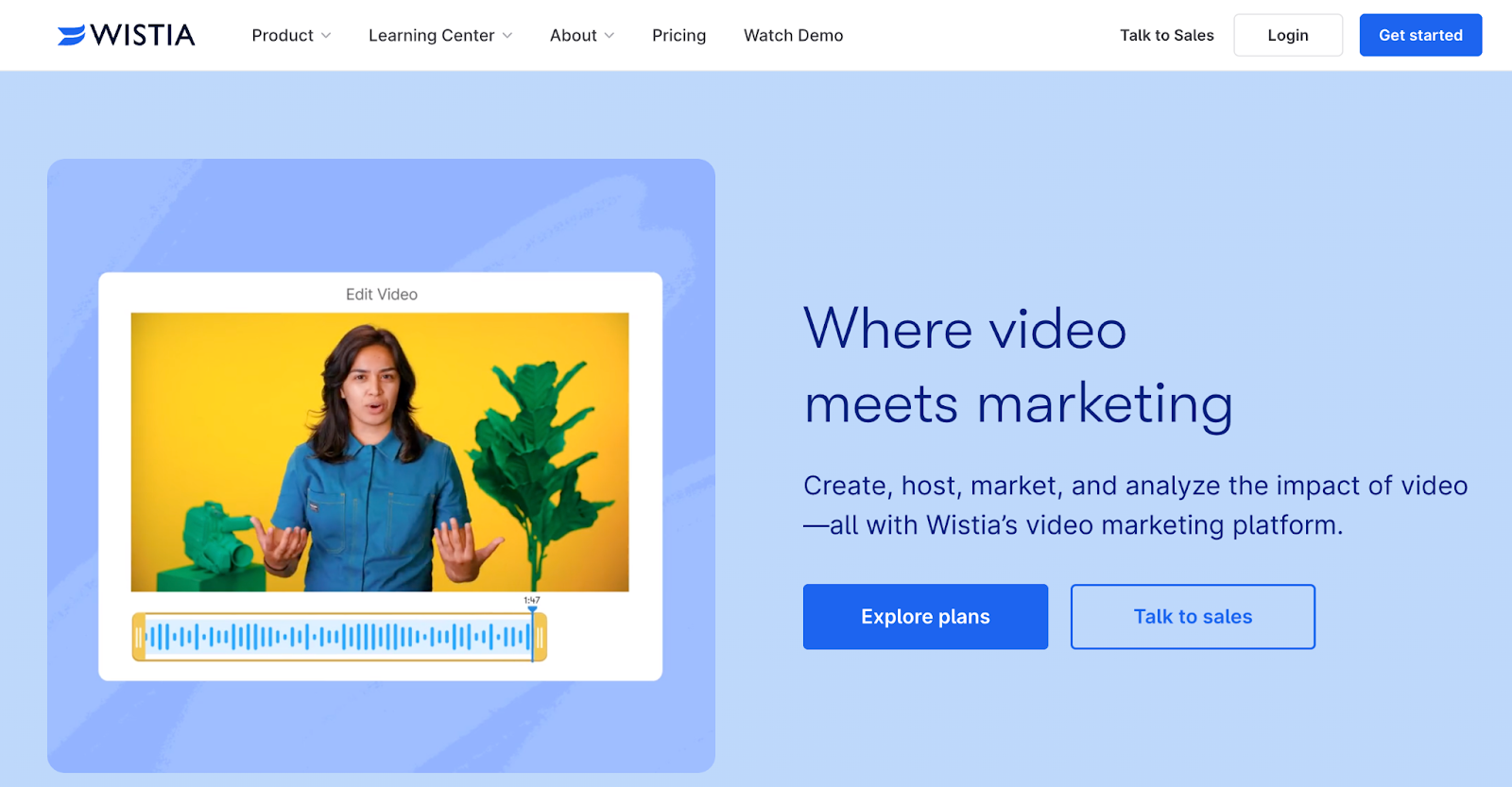 Wistia is a household name in the realm of video hosting solutions for marketing. It's ideal for businesses that want to create and share videos quickly on a budget.
The platform offers a comprehensive suite of features, including custom branding and design, powerful analytics, an integrated video content management system (CMS), auto-generated captions, and more.
But one of Wistia's major strengths is the video marketing tools that come with it — allowing you to create calls-to-action, customize the end screens, and track audience engagement.
Pros
Built-in analytics tools to track performance
Advanced video editing tools
Integrated CMS with third-party tools
Automated transcription and captioning services
iOS mobile app for video uploading
Cons
Multiple users complain about limited brand customizations
Uploading lengthy videos can take a long time
Free trial
Pricing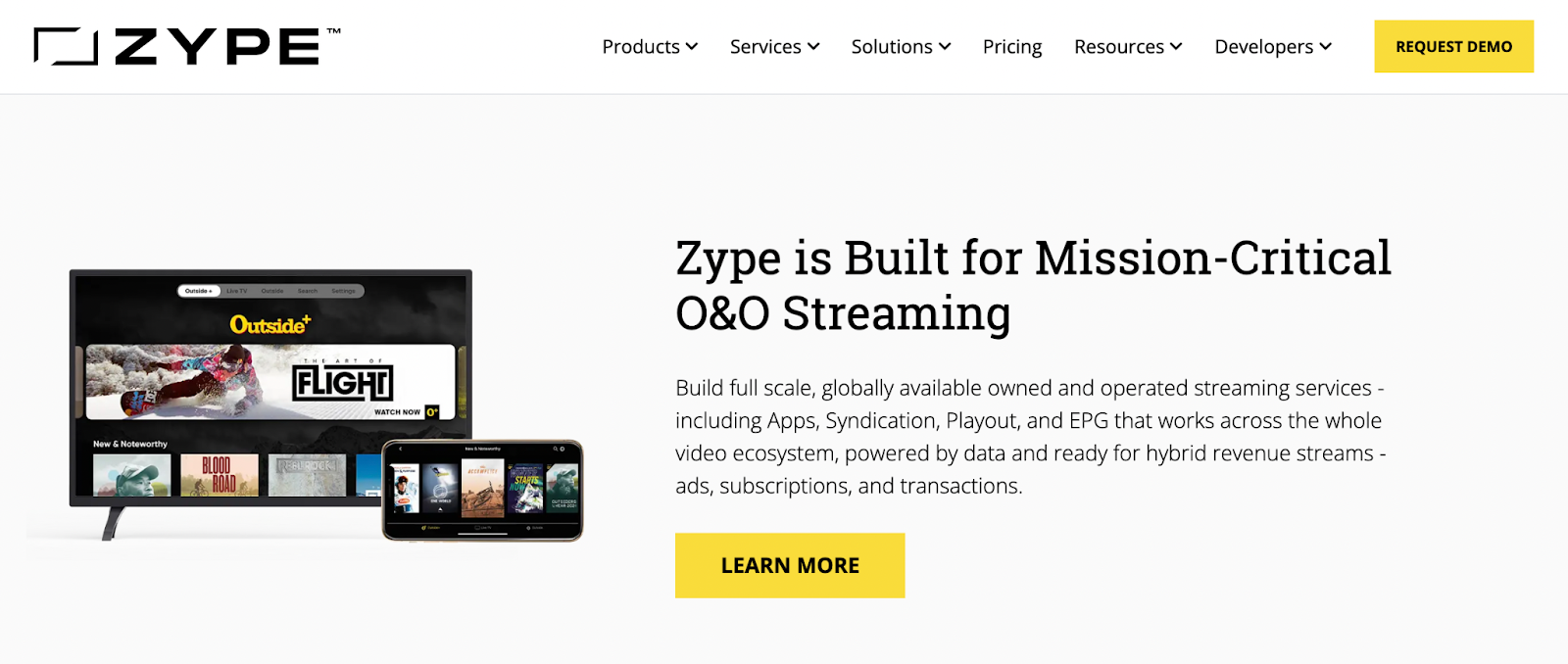 Zype is specially built for O&O (Own & Operate) related video projects. This means that it's an ideal platform for businesses that want to own, manage, and monetize their video content.
The platform offers features like Video CRM for better customer insights and segmentation, video encoding, cloud video hosting, a secure player for delivering videos to end users, support for multiple monetization models (subscription, ads, pay-per-view, etc.), and more.
Pros
Powerful video encoding capabilities
Integrated monetization models
Apps creator for mobile app creation
Extensive product documentation
Excellent customer service
Cons
No telephone support
Relatively expensive for small products
Free trial
Pricing
Request a demo to get pricing details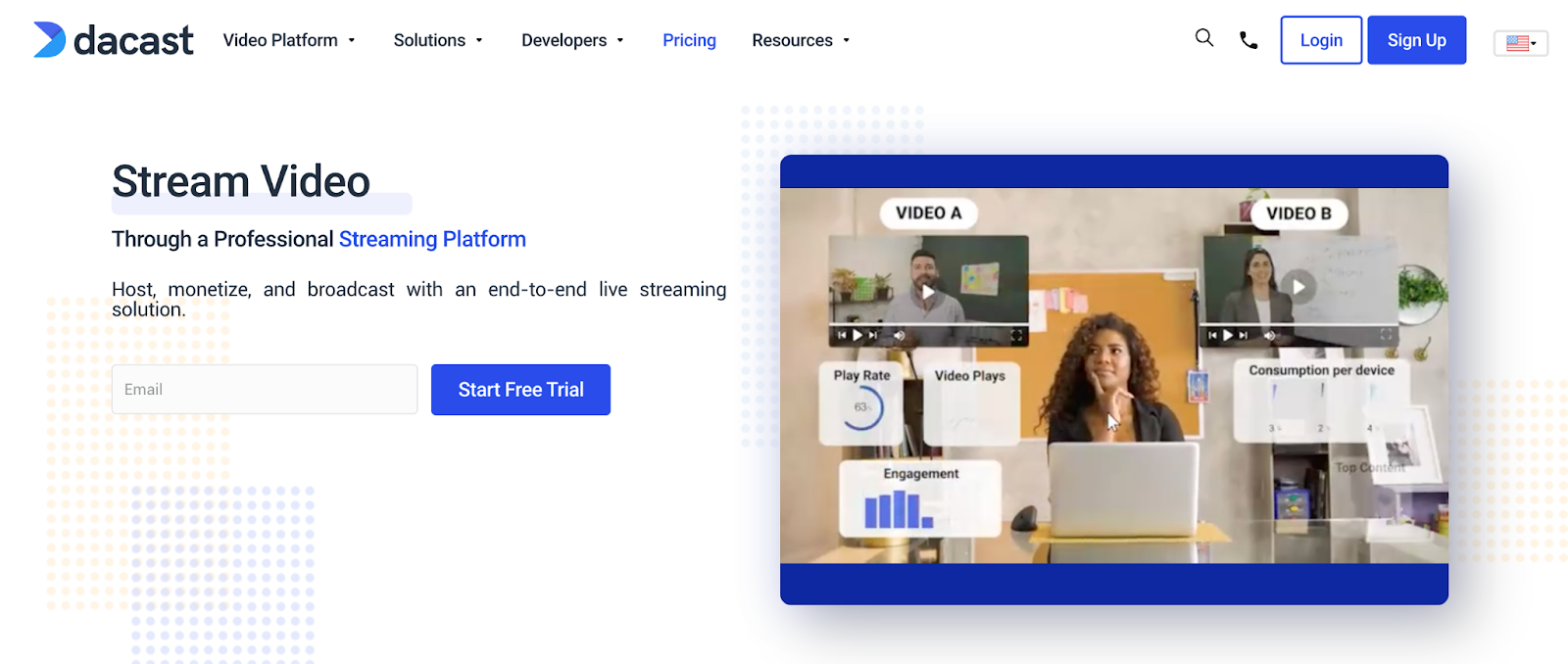 DaCast's enterprise video hosting solutions offer an all-in-one streaming platform for enterprises of any size.
You get the power of an enterprise video solution, with features like customized branding, DRM encryption for secure streaming, real-time analytics, and more. So whether you're streaming live or on-demand, DaCast provides the tools to help you reach viewers and engage them with your content.
It also comes with an HTML5 Video Player built-in, so you don't have to worry about any complicated setup and it's easy to customize with CSS and JavaScript.
Pros
Specialized content delivery network (CDN) for Mainland China
Custom video galleries on your website
White-label business video hosting platform
Video monetization support
Cons
No telephone customer support
Multiple users complain about the accuracy of analytics
Free trial
Pricing
$39 to $250 per month (but pricing goes higher for heavier use cases and large scale plans)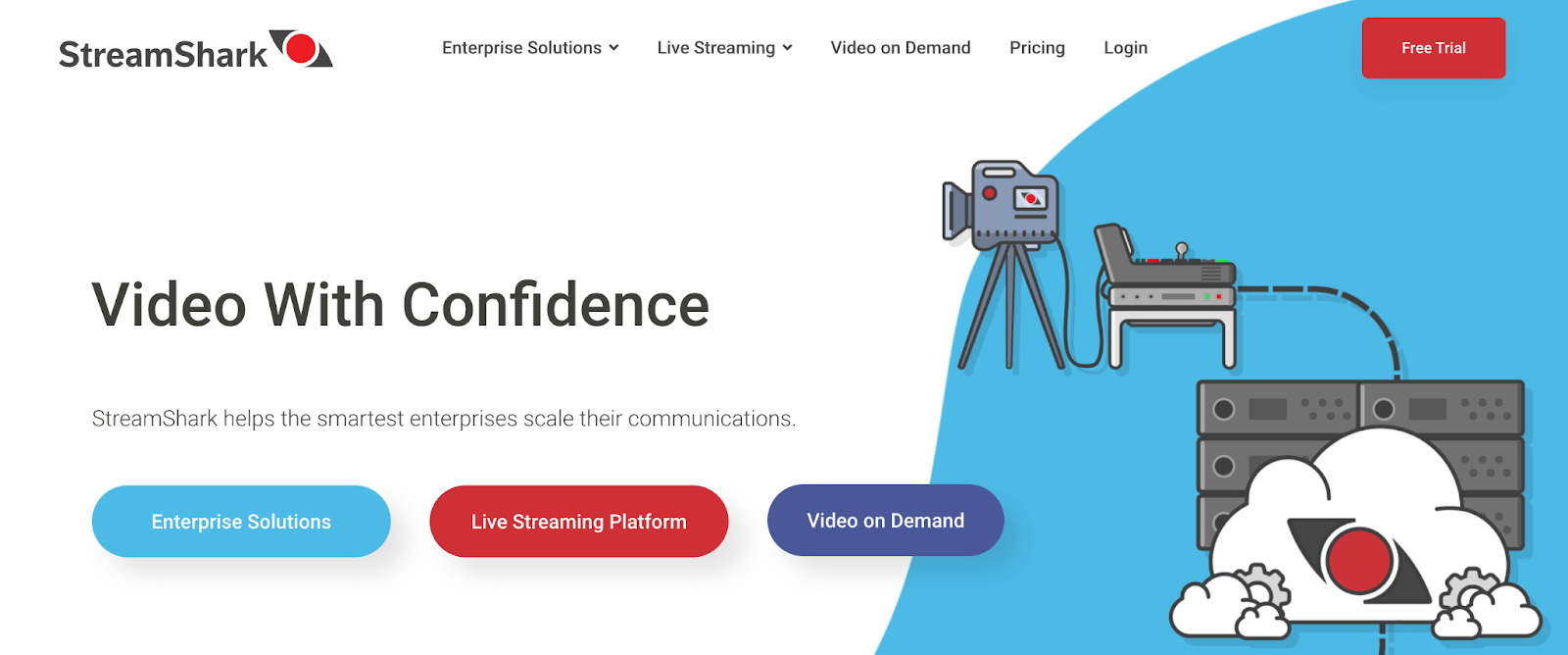 With StreamShark, you get a full-featured, cloud-based enterprise video solution. The platform offers powerful tools for managing encoders via a simple interface, managing content, and controlling the look and feel of your streaming experience.
The platform also offers integrated analytics, to allow you to track viewership and measure engagement. You can even set up custom viewing groups and access control levels, so you can ensure that your viewers are seeing the content they're supposed to.
Pros
Powerful live streaming tools
End-to-end encryption and DRM
Control viewership by IP, domain, location, or website
Peer-to-peer stream to reduce external bandwidth requirements
Internal access settings control
Cons
Inability to create polls and quizzes on a live stream
Free trial
Pricing
Starting from $199 per month
Each of these solutions comes with a variety of features and benefits, depending on the specific needs of your business — so be sure to read up on each one before you decide which is the best fit for your company.
FAQs on enterprise video hosting platforms
Let's answer a few of the questions you may have about Enterprise Video Hosting Platforms.
What is an Enterprise Video Hosting Platform?
Enterprise video hosting platforms are cloud-based solutions that businesses use to deliver videos to their audiences. These platforms offer features such as DRM encryption, streaming analytics, white labeling, and more.
Is YouTube an enterprise video platform?
Going by our definition of what an Enterprise Video Hosting Platform is, YouTube would not qualify as one.
YouTube offers a variety of features for video hosting, but it does not offer the same level of security, scalability, and customization that many Enterprise Video Hosting Platforms provide. Particularly, it doesn't offer the same levels of DRM encryption and white labeling functionalities that enterprise video hosting platforms do.
What are the benefits of an Enterprise Video Hosting Platform?
One of the main benefits of an enterprise video hosting service or platform is the ability to customize the video experience for viewers.
For instance, let's say you have a staff training video that you want to be available only to employees. And you want the video to have your company branding, including a logo and specific colors.
An enterprise video hosting platform will allow you to do this with ease. Additionally, they can provide tracking and analytics to help you measure viewership and engagement. And, they often come with built-in security measures like DRM encryption and access control levels that ensure only the right people are seeing your videos.
All in all, Enterprise Video Hosting Platforms make it easy to create a secure, custom video experience for viewers that can be tracked and monitored.
Pick a video platform that's best for your situation
At the end of the day, the enterprise video hosting solution that is best for your situation depends on the specific needs of your business.
Even though we've mentioned that most enterprise video hosting platforms are similar in how they serve users, it's important to also look at more specifics like features, pricing plans, and customer support of each platform.
Read through the features of each platform carefully and make sure that the one you're picking offers all the features your business needs before making a decision.
We've outlined some key features and benefits of popular enterprise video hosting platforms above to help you make an informed decision. We hope that's helpful for you.